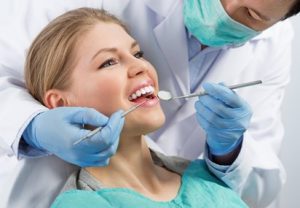 Understanding the treatments for dental issues is crucial to making the right decisions for your oral health. If you have tooth decay, your dentist may discuss two options for treatment. Knowing the difference between dental crowns and fillings and knowing which option is best for you will be the key to how your dentist will proceed. Keep reading to learn what sets these two restorative dentistry options apart and which option is best for the different stages of tooth decay.
What is a Dental Filling?
When you have a minor cavity, your dentist will remove the decayed portion of your tooth and replace the now empty space with a composite material. Amalgam (silver) or gold fillings are sometimes chosen for their durability and resistance to wear. But over time, these metal fillings can cause the tooth to crack. If you have cosmetic concerns, your dentist can use a composite material instead or porcelain filling. Both of these options can be designed to match your natural tooth color, but they are very different options. A porcelain filling is more durable and more stain resistant when compared to a composite resin filling, which is quite vulnerable to both wear and stains. There is no special care required to maintain the effectiveness or appearance of this restoration. However, with a composite resin filling, it would be wise to limit your intake of sticky foods, as well as dark-colored beverages and tobacco products.
Best Used to Treat:
Cavities
Minor fractures or cracks
Small holes
Tooth discoloration
Gradual loss of tooth structure
What is a Dental Crown?
Dental crowns are made of porcelain, ceramic, metal or composite resin and are custom made to look and perform exactly like your natural teeth. If your dentist performs a root canal, a crown will be used to cover your entire tooth above the gum line and fit in seamlessly with the rest of your teeth, making it easier for you to chew and speak. This restorative treatment is incredibly durable, it can last for more than 10 years and does not require any special care. You simply care for it as you would your natural teeth.
Best Used to Treat:
Cavities
Cracks in teeth
Root Canals
Decayed fillings
Broken or fractured teeth
Worn-down enamel
Tooth discoloration
Cosmetic issues
Depending on the extent of your tooth decay, either of these options is a great choice to restore your smile. If you're not sure which treatment will be best for your needs, your dentist can help you make the right decision.
About the Author
With a strong focus on cosmetic benefits and truly metal-free dentistry, Dr. Scott Mosby has been transforming the smiles of Kingwood citizens for more than 25 years with personalized, comprehensive oral treatments. He achieved his Doctor of Dental Surgery from the University of Texas at San Antonio dental school and continued his education through coursework at the prestigious Las Vegas Institute for Advanced Dental Studies. If you are in need of dental restoration or want to improve your smile, contact the office at (281) 359-6672 or visit the website to schedule your appointment today.