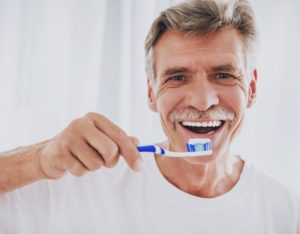 According to the American College of Prosthodontists, about 178 million Americans have lost more than one permanent tooth. If you're part of this population, chances are you've heard about dental implants as a way to rebuild your smile. As the most comprehensive way to replace missing teeth, dental implants offer a vast array of benefits that other solutions don't. However, this treatment is not suitable for everyone. Here are a few things to consider regarding your dental implant candidacy.
Most People Make Good Candidates
Whether you're missing one, several, or even all of your original pearly whites, dental implants can restore your smile back to its former glory. Generally, most adults who have healthy gums are eligible for this procedure.
One primary factor that affects the success of your implants is the strength of your jawbone. After you've lost even one tooth, the roots are no longer there to stimulate the jawbone through biting and chewing. As a result, the bone gradually begins to shrink. Over the years, it may not be strong enough to support dental implants.
The good news is that your dentist may be able to strengthen the bone with a bone graft. Grafting additional bone tissue onto the existing bone can promote the growth needed to provide a sturdy foundation for your implants.
Only Your Dentist Can Determine Your Eligibility
Every dental implant journey starts with a consultation. During this appointment, your dentist will examine your mouth in great detail using x-rays as well as computed tomography (CT) scans. These images help your dentist determine the density of your jawbone and where exactly your implants should be placed. The dentist can also go over your medical history to figure out whether you have any conditions that could compromise implant treatment.
Certain Factors Can Increase Your Risk of Implant Failure
Here are some factors that can adversely impact the outcome of your implants:
Tobacco use
Uncontrolled diabetes
Cancer
Radiation to the head or neck
Excessive alcohol consumption
Gum disease
Bruxism (teeth grinding)
Autoimmune disorders
Drugs that suppress the immune system
Just because you have one of these conditions doesn't necessarily mean that you can never get dental implants. You may simply have to undergo some other kind of treatment beforehand, such as getting your diabetes or gum disease under better control. Talk to your doctor and dentist about what you can do to maximize the success of your dental implants.
About the Author
Dr. Scott Mosby earned his Doctor of Dental Surgery degree in 1985 from the University of Texas at San Antonio Dental School. For more than 25 years, he has offered the community of Kingwood, TX comprehensive and compassionate dental care. He partners with the best oral surgeons and periodontists in the area to design, place, and restore dental implants. To learn more about whether this revolutionary treatment is right for you, visit Dr. Mosby's website or call his practice at 281-359-6672.